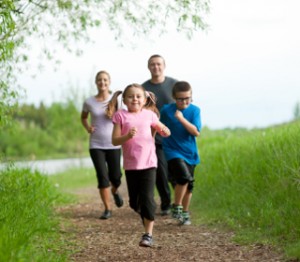 We all know it is a tough task to find time for you with the responsibility of your children on your shoulders. You are constantly on the go and parenting 24/7. It is easy to say that "I have no time to work out," and give up on the idea of exercise. However, there are easy ways to incorporate a workout into your busy day with your kids. Here are some great workout tips to try with your kids:
Infant/Toddlers:
Take advantage of nap time! Throw on a workout video, hit the at home exercise equipment, or jump rope
Occupy your kids with a movie or short video, and while they watch you can do quick exercises: abs, squats, pushups, jumping jacks, etc.
Grab the stroller and go for a walk or jog with the kids
Turn on the jams and have a little dance party with the kids!
Push your children on the swing. They will enjoy going higher and you will work your arms
Attach an infant or bike carrier to the back of your bike and go for a ride with your child
Grade School:
Go rollerblading or roller skating with the kids
Play on the playground with your child! Swing, climb, slide!
Get a group and play softball or kick ball
Play catch with your child
Go on family bike outings
Strength train and get your kids involved. Have your kids count your reps and cheer you on!
Go to the pool and swim laps while your kids play or play water games with your kids
On rainy days, walk up and down the stairs. You could even make a race with your child on who can complete a set of stairs first
Teenagers:
Register for a walk or 5k run and do it with your children
Get a family gym membership and work out weekly together
Play a tennis match or basketball game
Join a community sports league (softball, baseball)
Walk around while you watch your kid's sports event
Go on family walks
Work together doing yard work
Working out with your children or involving them in your workouts will benefit the both of you greatly! You are getting your children active and promoting their health and yours. Exercising with your kids will give them a positive outlook on being active and how easy and fun it can be! So, no more complaining about being "too busy being a parent," get up, get your kids, and go be active!