You're probably very interested in seeing results right? Well, there's always just been one thing standing between you and the body of your dreams… and that's Food.
It's everywhere and we have to eat it multiple times a day. Unlike quitting smoking, you can't quit eating. With food, you'll always be around it and you will always need it.
So how can you be one of those people who see amazing results like dropping 20-50lbs pounds and still maintaining your motivation long after that?
The answer is, you have to make it an easy habit. We are creatures of HABIT andevery day we are looking for new habits to save more time and keep us in a place of comfort or happiness.
So when you're creating new habits, they can't take all day or be a hassle otherwise NOBODY will do them.
Your focus on a healthy lifestyle should take minimal time. In fact, it will Enhance your Weight Loss using Less Time & Effort!!!
What is it? Expedited Weekly Meal Prep.
How do you do it?
Good News…That's the best part. We've simplified the process for you!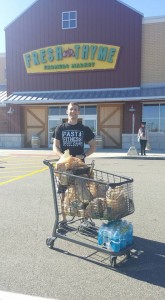 1) All you have to do is get 20 individual meal containers, a lunch box, ice pack, and sandwich bags.
2) Then go to the Grocery store and pick 3 Meats (proteins), pick 3 Vegetables, Coconut Oil & Extra Virgin Olive Oil
3) Grap a couple snacks like: fruit, nuts, and fresh, minimally processed deli meat
Seriously, your grocery list is super short, super easy, and will make shopping for this stuff super fast!
If you already have spices and seasonings at home then you're good. If not pick up some for the meat and vegetables to add extra flavors. You can also save time by getting foods that are pre-chopped. You may pay a little more for pre-chopped foods but it's gonna save you a lot of time and effort.
4) Cook all your meats with coconut oil/spices. Cook all your veggies in the oven (over-roasted Veggies are our favorite) with Extra Virgin Olive Oil/ spices.
5) Bing, Bang, Boom…You're done. Put all the food in individual meal containers and store in frig for the rest of the week. Put your snacks in the sandwich bags.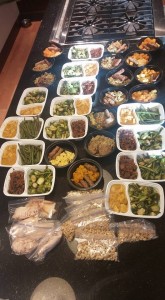 Tips
Eat breakfast before you leave home and take two meal containers and two snack bags with you in a lunch box to keep cold.
Pack your lunch box the night before so it's grab and go. Pop the meal in the microwave and in less than 2 minutes you'll be enjoying a home cooked meal and tasty snacks.
Average time spent Expedited Grocery Shopping: 30min
Average time spent Expedited Meal Prepping, Cooking & Cleaning: 2 hours
Do your meal prep with spouse, kids, or fellow bootcamper. Make it time you spend together and schedule it the same time each week. Play some music and have fun with it!!!
Trust me, take the 2-3 hours on a Sunday and this new habit will ACTUALLY SAVE YOU TIME. So if you're busy, there is not an excuse, it's your biggest reason to get this done!
Reasons To Use EXPEDITED MEAL PREP
Very easy cooking!
No confusing or time consuming recipes
You only have to do it once a week.
It will save you a lot of Time
You will save a lot of money by eating out less and preparing ahead
You will lose weight faster than ever before
You will get rid of extra processed food and sugar from your body
No more wondering what you're going to do for each meal
You'll use these meals and snacks all day without resorting to junk food.
You can do it with someone special for quality non-digital time together.
Reasons Not To use Expedited Meal Prep
You are being Lazy
You like spending tons of money going out to eat
You are not serious about reaching your health and fitness goals
You like eating /cooking 21 different meals each week
You like doing things the hard way with little results.
Get the point…
Committed to your success
Chad & Val
P.S. let me know when you do your first Expedited meal prep so I know you're on your way to faster results with less Time and Effort!
P.P.S. You can still use Next Level Nutrition with this if you want to make it more customized to your body type.