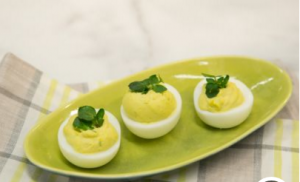 It's spring time and easter is right around the corner. By the end of the week you will probably have a fridge full of hardboiled eggs. They are full of protein and healthy fats. I'm challenging you to eat those little protein gems in healthy ways instead of filling them with mayo. Here are a few recipes to help you out, and the first one is still the Easter favorite, deviled eggs. 
Avocado Deviled Eggs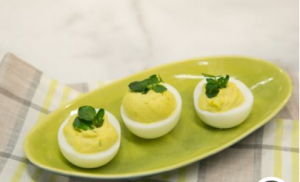 Prep time:  15 mins
Total time:  15 mins
Serves: 16 deviled eggs
Ingredients:
8 eggs, hard boiled
1 organic ripe avocado
1 large lemon, juiced
½ teaspoon Himalayan pink salt
Cayenne, paprika, black pepper, optional
Directions:
Cut each hardboiled egg in half lengthwise and scoop out the yolks.
Put the yolks, avocado, lemon juice and salt in a food processor and blend until smooth and creamy.
Spoon the yolk mixture into a piping bag and pipe into the middle of each egg white.
Optional: sprinkle with paprika or cayenne according to taste.
Bonus! These are light green in color so they're festive for spring!
Brussel and Egg Chop Salad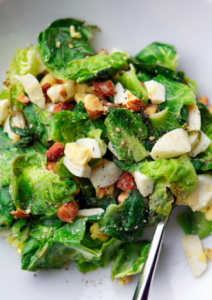 Ingredients:
1 lb brussels sprouts
1 tablespoon extra virgin olive oil
3 cloves of garlic
4 large hard boiled eggs, peeled and chopped
1/2 cup slivered/chopped almonds
1/2 teaspoon sea salt
Directions:
Taking one brussels sprout at a time, peel back the individual leafs until you get close to the center and you can't peel anymore. You may either discard the center or cut in half and roast at a later time. Place all the leaves a bowl.
Heat olive oil in a large skillet over medium heat. Add garlic and sauté until fragrant, about 2-3 minutes. Add brussels sprouts leaves and sauté until slightly wilted or lightly browned. Remove from heat. Add the chopped hard-boiled eggs, slivered almonds and sprinkle with sea salt and mix together.
Chickpea, Egg, and Tomato Salad
Ingredients:
2 15-ounce cans of garbanzo beans (chickpeas), drained and rinsed
4 tomatoes (about 2 lbs.), cored and chopped
4 large hard-boiled eggs, peeled and chopped
1 cup of chopped red onion, green onion, or sweet yellow onion
2 Tbsp chopped fresh parsley
Dressing:
1/2 cup extra-virgin olive oil
4 Tbsp of white wine vinegar or sherry vinegar
3 cloves garlic, minced (about 1 Tbsp)
1 teaspoon Dijon mustard
1 teaspoon salt
1/2 teaspoon freshly ground pepper
1/2 teaspoon Italian seasoning (or 1/2 teaspoon dry thyme or a teaspoon of fresh chopped thyme)
Directions:
1 Combine the garbanzo beans, tomatoes, and onions in a large bowl.
2 Put the dressing ingredients into a small jar, close the lid and shake until the dressing is emulsified. Pour over beans, tomatoes and onions.
You can chill the undressed salad up to six hours, until ready to serve.
3 When ready to serve, gently stir in the chopped eggs and parsley.
Eat Up!